Ich habe gerade über mehrere Ecken diesen nette "Test" gefunden. Da muß ein paar Fragen beantworten und wird danach einer Kategorie von Videospiel-Charakteren zugeordnet. Vor allem fand ich cool, daß man bei jeder Frage nicht nur auf eine Antwort beschränkt ist, sondern mehrere oder auch alle geben kann. Das Resultat war: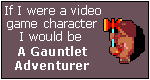 I am a Gauntlet Adventurer.

I strive to improve my living conditions by hoarding gold, food, and sometimes keys and potions. I love adventure, fighting, and particularly winning – especially when there's a prize at stake. I occasionally get lost inside buildings and can't find the exit. I need food badly.
Allerdings konnte sich der Test nicht ganz entscheiden. Hier also die zweite Variant: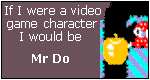 I am Mr Do.

I am sedentary by nature, enjoying passive entertainment, eating when the mood takes me, and playing with my food. I try to avoid conflict, but when I'm angered, I can be a devil – if you force me to fight, I will crush you. With apples.